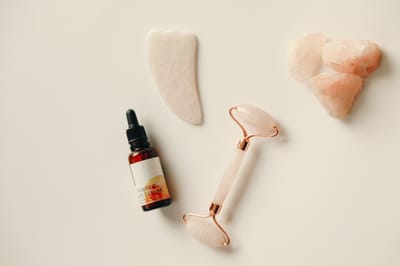 My Facials are a holistic hands on & machine free experience with a focus on skin health through deep cleansing, exfoliation, lymphatic drainage, specific products including masks, oils & serums, combined with specialist massage techniques to improve blood circulation, nourish your skin from within & lift & contour your musculature. Deep relaxation & a feeling of restored harmony & balance is a happy side effect! Your skin will be radiant & glowing with no need for down time after your facial!
All facial treatments begin with phone consultation to discuss your needs prior to your appointment & skin analysis in person prior to your facial treatment.
Bespoke Signature Facial
Once we have established your specific skin care goals for the treatment a custom blend of products from the
SCR CETUEM range
and hands on techniques are put together to meet your specific needs. This is a non invasive natural facial treatment. A blissful, soothing, holistic treatment that will leave you with healthy, vibrant skin.
Just some of the magic combinations may include deep cleansing, exfoliation, Gua Sha Massage, specific tailored massage, multiple masks oils & powerful serums, warmed and cooled crystal massage. Treatments are different each time depending on your needs.
60 minutes £5590 minutes £70Bespoke Mini FacialAvailable as an add on treatment
when you need a quick freshen up. Includes cleansing, toning, exfoliation & a specific mask & tailored finishing products.
45 mins £35Teenage Mini Facial
Available as an add on service
designed to help manage hormonal skin break outs.
30 mins £25Purifying Facial
Recommended for congested skin to thoroughly cleanse & exfoliate dead skin cells, rebalance sebum activity, aid lymphatic drainage to clear congestion & heal & soothe break outs with calming & anti microbial products.
60 mins £55

Natural Facelift Massage
Natural facelift massage is a unique combination of therapeutic touches including facial pressure points, rhythmic contouring sculpting strokes & plumping & smoothing techniques to deeply nourish your skin from within.
The harmonious blend of techniques include elements from facial reflexology, Indian & Japanese face massage. Together this blend of techniques revitalize your skin, temporarily soften fine lines, uplift and sculpt facial muscles all while providing a blissful deep relaxation to allow you to fully recharge.
60 minutes £50Facial Rejuvenation with Chinese facial Cupping

A safe and effective natural therapy where specialised facial cups are used to massage the face and neck with contouring and lifting movements. The facial cups enhance absorption of active ingredients which increase blood circulation & lift the facial muscles while brightening the complexion. No downtime, bruising or side effects, just healthy brighter skin. Mask therapy & exfoliation are included.
60 minutes £60

Bespoke Natural Rejuvenation Facial

An indulgent deeply relaxing facial which is a custom made blend of lifting facial massage & facial cupping with warmed and cooled crystals such as Rose Quartz, Jade & Clear Quartz. These help to release tension around the jawline, soothe the skin, and lift & contour facial muscles. A soothing neck & shoulder massage with warmed Himalayan salt stones add to the experience so you not only see improved skin condition but also feel a release in neck & shoulder tension, leading to a sense of overall peace.
60 mins £5090 minutes £75NEW Facial with Gua Sha
Gua Sha is an ancient Chinese therapy whereby application of gentle scraping using a tool touch as jade or rose quartz stimulates blood circulation promoting skin rejuvenation naturally. Also useful also for treating headaches, TMJ, sinus congestion & dull skin. It works from the inside out & leaves you glowing. A variety of natural tools are gently used which create a pleasant sensory experience as well as enhancing relaxation. Treatment Includes exfoliation, lifting massage & a tailored sheet mask. Upper back neck & shoulder tension is addressed and included as part of the treatment.
60 minutes £50Please be aware of the following cancellation charges before making a booking:
Over 24 hours 0% Under 24 hours 100%Minimum call out £50