I am fully insured with the Guild of Holistic Therapists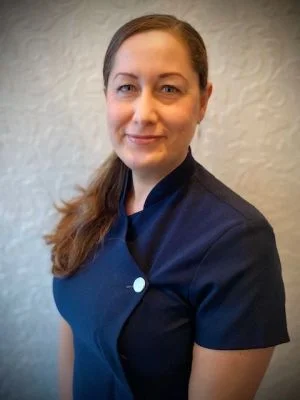 I have many years of experience having trained as a beauty therapist with City & Guilds way back in 1990, which included massage therapy. From there I worked in salons, spas (including The Sanctuary in Covent Garden) & health clubs both in the United Kingdom and Sydney Australia gaining invaluable industry experience & adding to my treatment repertoire.
In 2003 I began working as a freelance therapist treating my clients in their own homes, working with a professional holistic agency in 5 Star hotels, as well as working in the corporate sector providing on site massage to city workers, helping them to reduce work place stress.
Over the years I have continued to refine my skills by attending regular workshops & training courses to enhance my skills in the areas I love, which are massage & skin care.
---
Qualifications & Training
SKINCARE
2011 Refocus Natural Facelift Massage Diploma
2008 Acne, Allergies And Ageing
2007 Hormones, Menopause and the Skin
2006 Successful Acne Treatments
2005 Effective skin analysis
2005 Sun Damage And Ageing skin
2002 Chinese Diagnosis: Face & Body Reading
2001 Cosmetic Technology
1994 City & Guilds Beauty Therapy
1994 IHBC International Beauty Therapist Diploma
BODYWORK
2020 Relaxation Therapy Diploma
2019 Advanced Massage Gua Sha Facial Massage
2019 Pregnancy Massage Diploma
2018 Himalayan Hot Rock, Salt Stone & Gem Stone Massage Diploma
2018 Neuroscience of Touch Seminar
2017 Advanced Massage Thai Foot Massage
2014 Better Back Massage Course
2013 Contemporary Cupping Methods
2013 Advanced Massage for Headaches Migraines and Sinusitis
2013 Practitioners Certificate in Myofascial Release
2012 Oncology Massage Diploma Grade Credit
2012 Colon & Deep Organ Massage
2010 Advanced Massage Trigger Points
2009 Hot Stone Massage Therapy
2009 Better Joints Course
2009 Magical Muscles Workshop
2009 Advanced Massage Masterclass Sciatic Pain & Piriformis Syndrome
2008 Practitioner Course Additional Training
2006 Transforming Touch
2005 No hands Massage Foundation Course
2005 No Hands Massage Practitioner Course